The distribution, posting, or publishing of resources does not imply ESD endorsement of any outside group's activities, products, or services.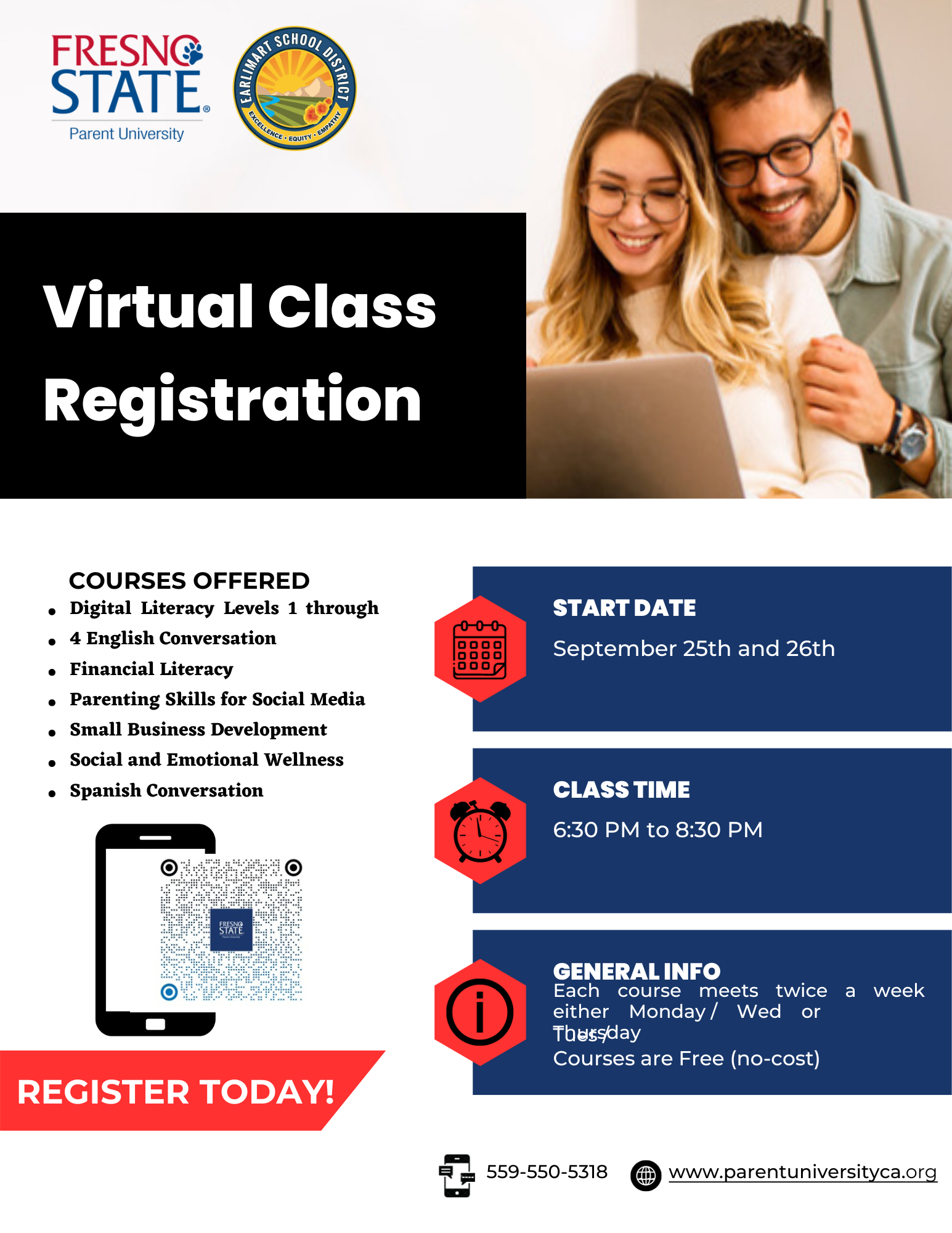 Virtual Class Registration
Fresno State Parent University
COURSES OFFERED
Digital Literacy Levels 1 through 4

English Conversation

Financial Literacy

Parenting Skills for Social Media

Small Business Development

Social and Emotional Wellness

Spanish Conversation
START DATE: September 25th and 26th
CLASS TIME: 6:30 PM to 8:30 PM
GENERAL INFO: Each course meets twice a week, either Monday / Wed or Tues / Thursday. Courses are free (no-cost)
REGISTER TODAY! 559-550-5318 or www.parentuniversityca.org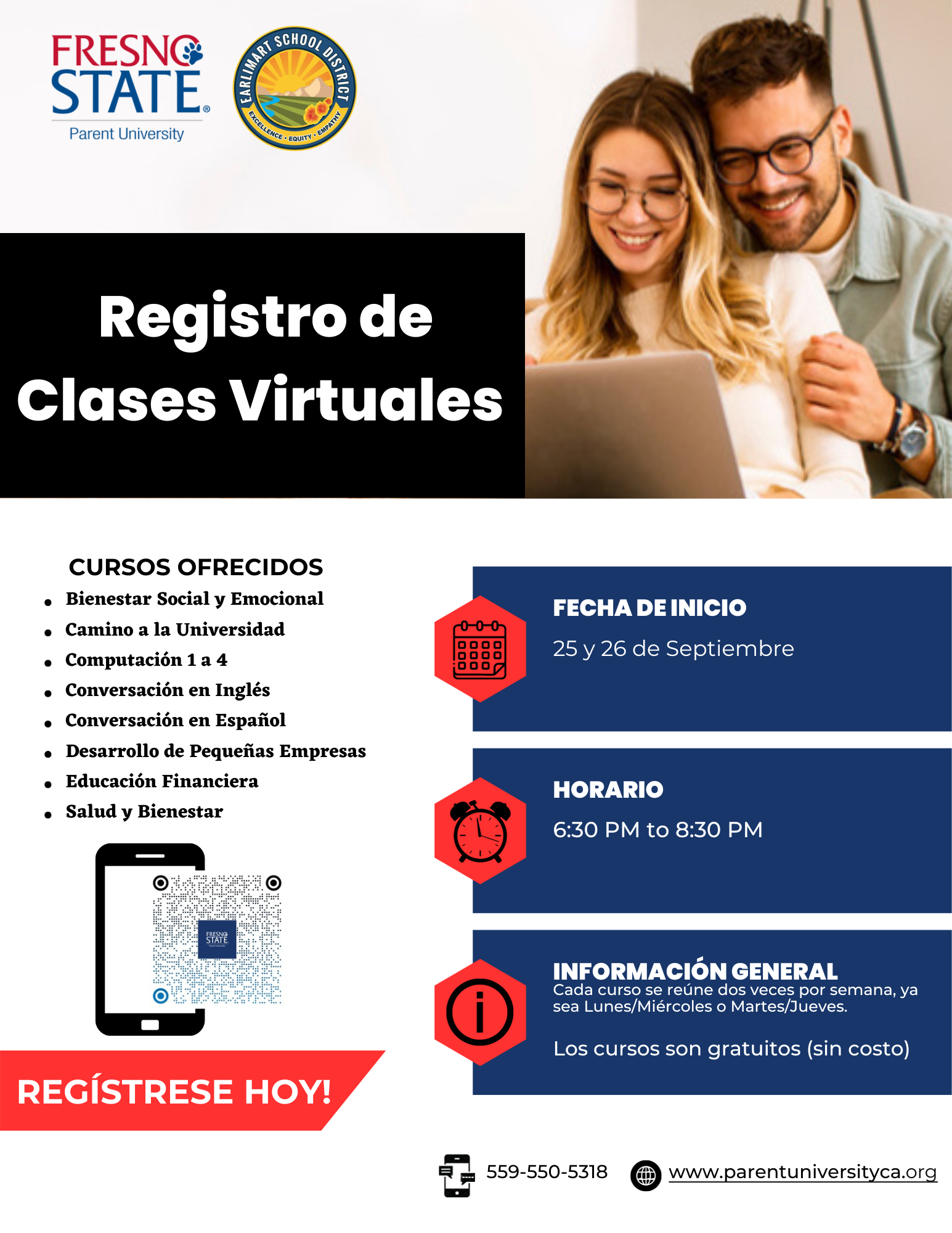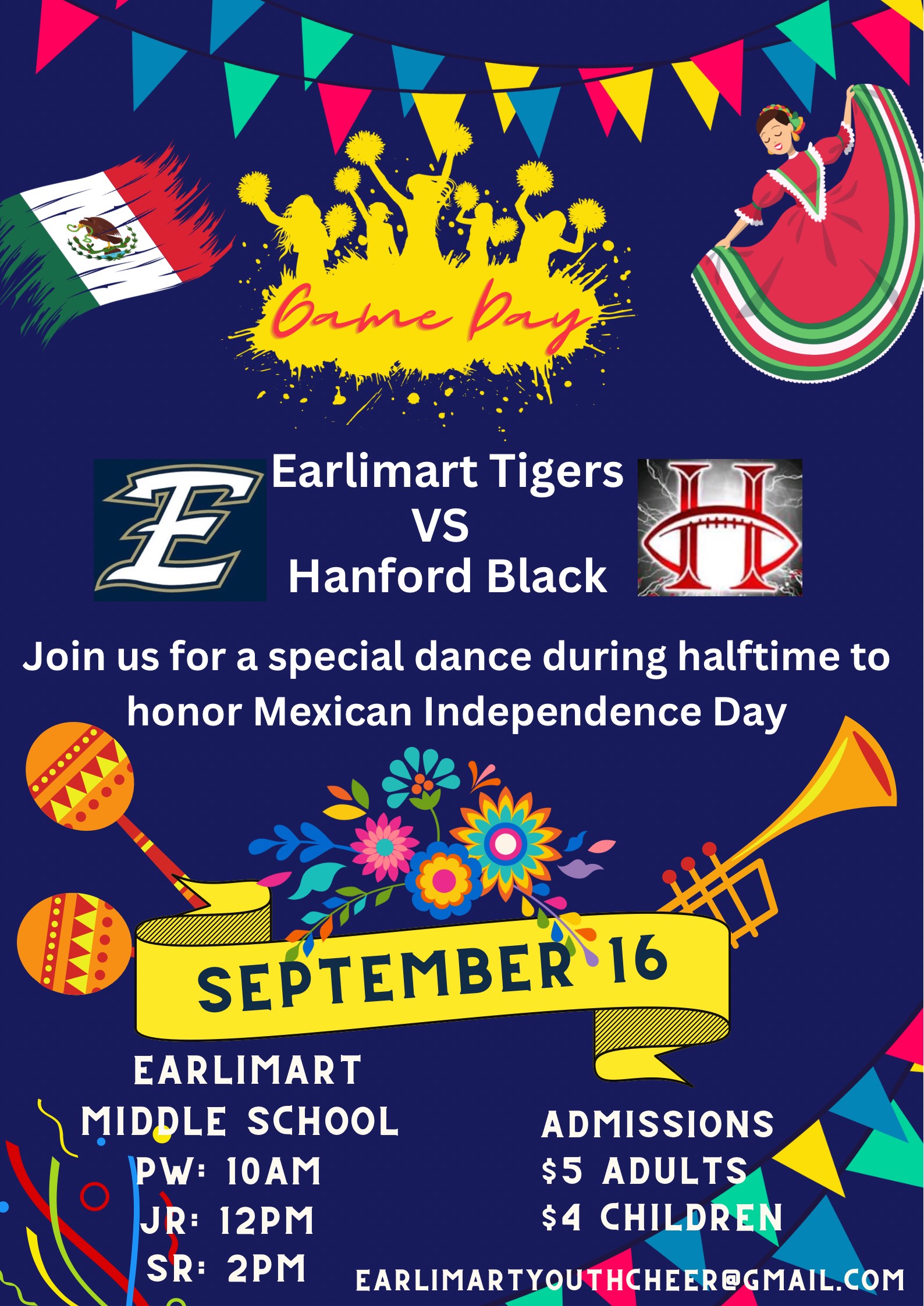 EYFO Cheer invites you to attend them at the next EYFO game:
Join us for a special dance during halftime
to honor Mexican Independence Day
Saturday, September 16, 2023
Earlimart Tigers -vs-Handford Black
Where: Earlimart Middle School Field
PW: starts at 10:00 a.m.
JV: starts at 12:00 p.m.
VAR: start at 2:00 p.m.
Admission is $5 for adults & $4 for children.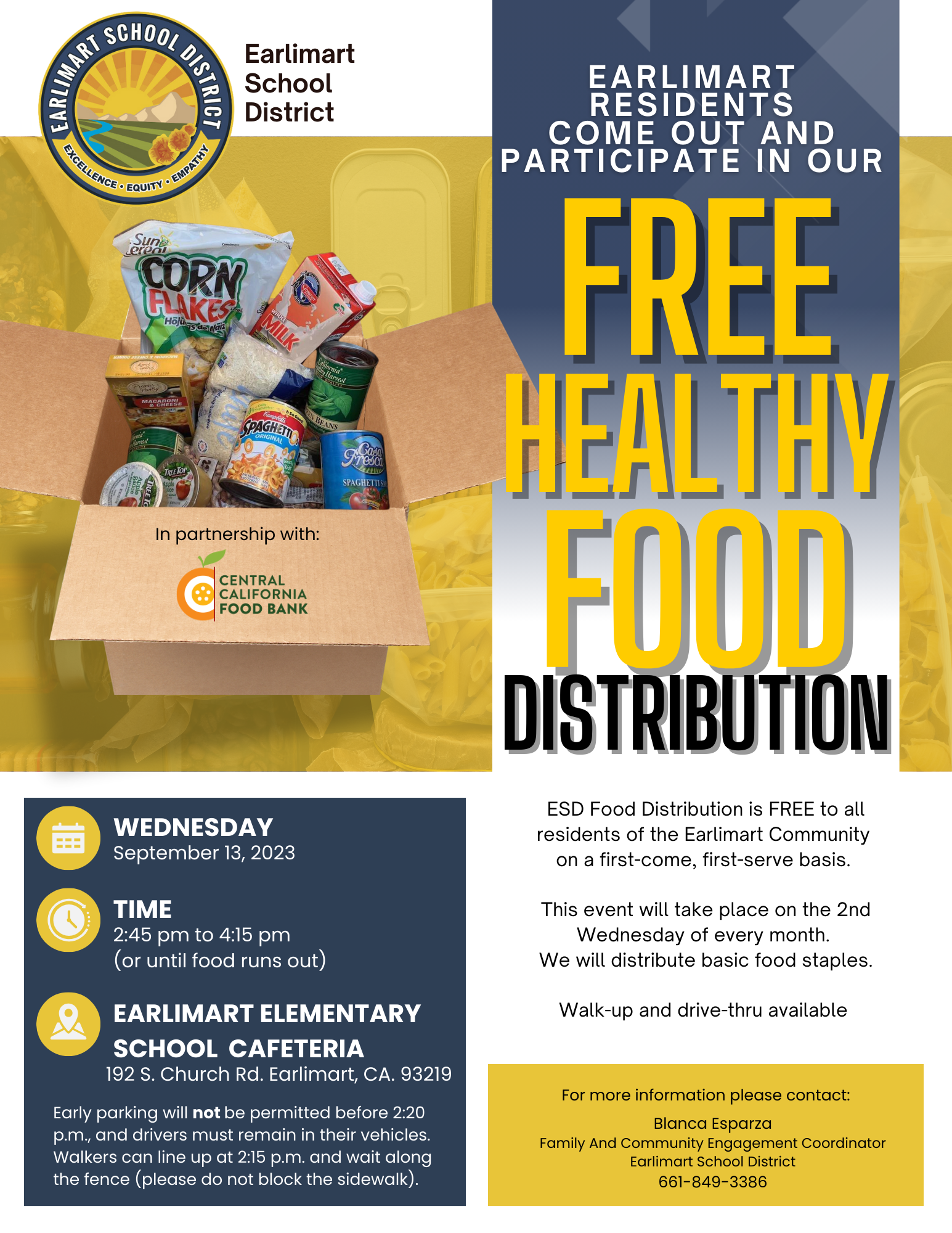 Earlimart School District
Free Food Distribution for the Earlimart Community
Earlimart School District will have it's first free food distribution for the Earlimart community in partnership with the Central California Food Bank on Wednesday, September 13, 2023. This event will take place at 2:45 p.m. at the Earlimart Elementary School cafeteria located at 192 S. Church Street.
ESD Food Distribution is FREE to all residents of the Earlimart Community on a first-come, first-serve basis. This event will take place on the 2nd Wednesday of every month. We will distribute basic food staples.
Walk-up and drive-thru available
For more information, please contact: Blanca Esparza, Family And Community Engagement Coordinator, Earlimart School District, 661-849-3386
Reminder: Early parking will not be permitted before 2:20 p.m., and drivers must remain in their vehicles. Walkers can line up at 2:15 p.m. and wait along the fence (please do not block the sidewalk).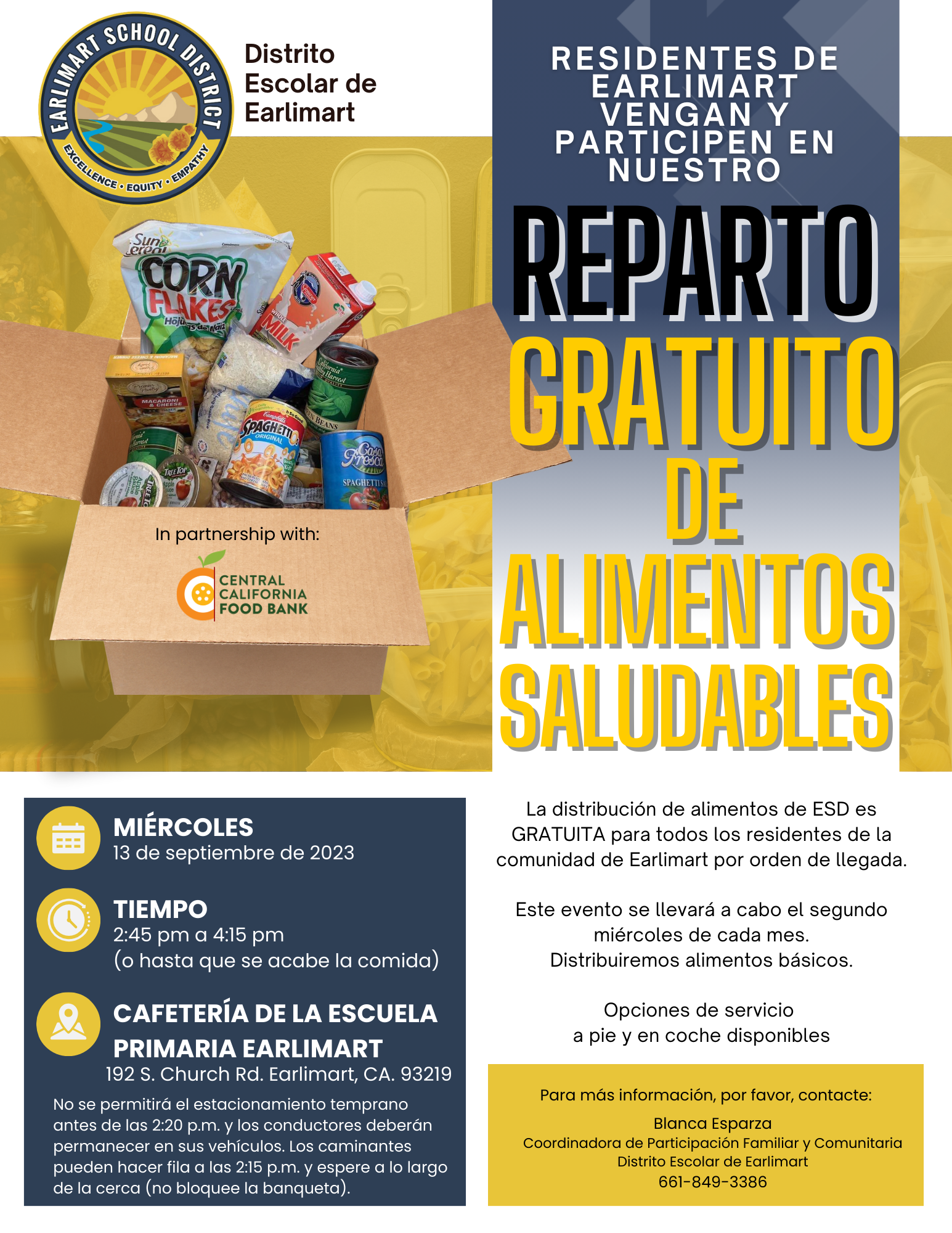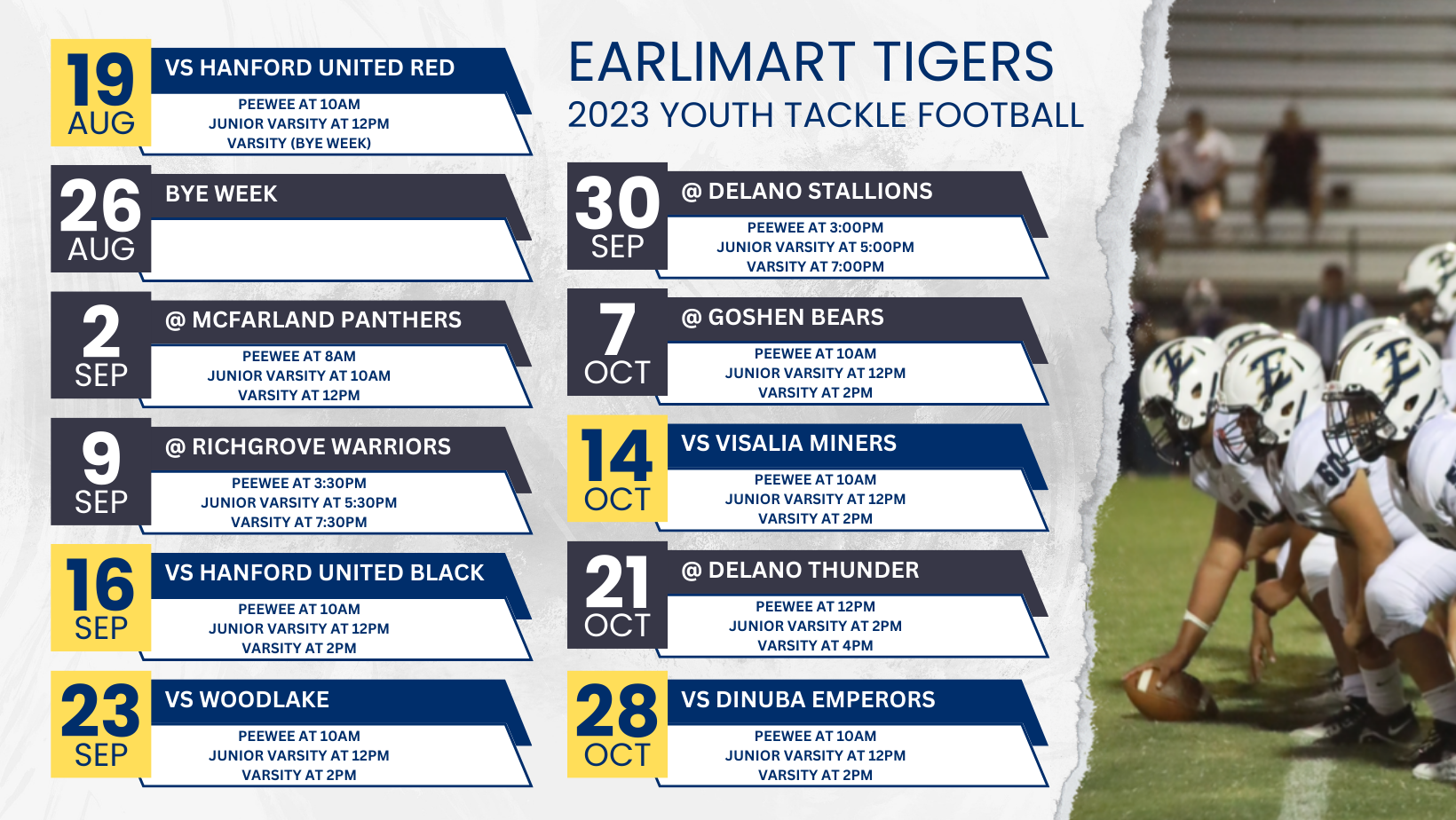 Home games (yellow) take place at the Earlimart Middle School.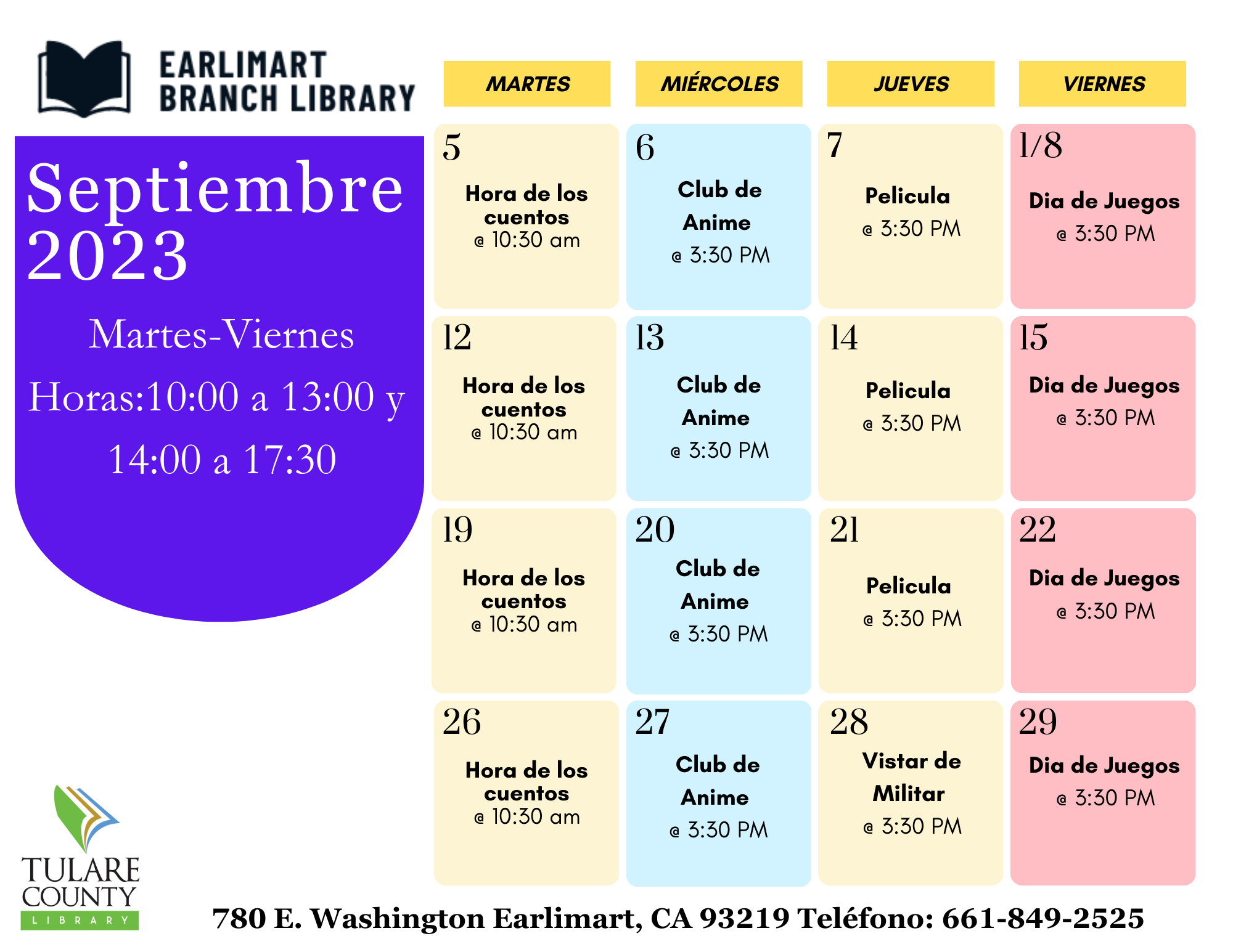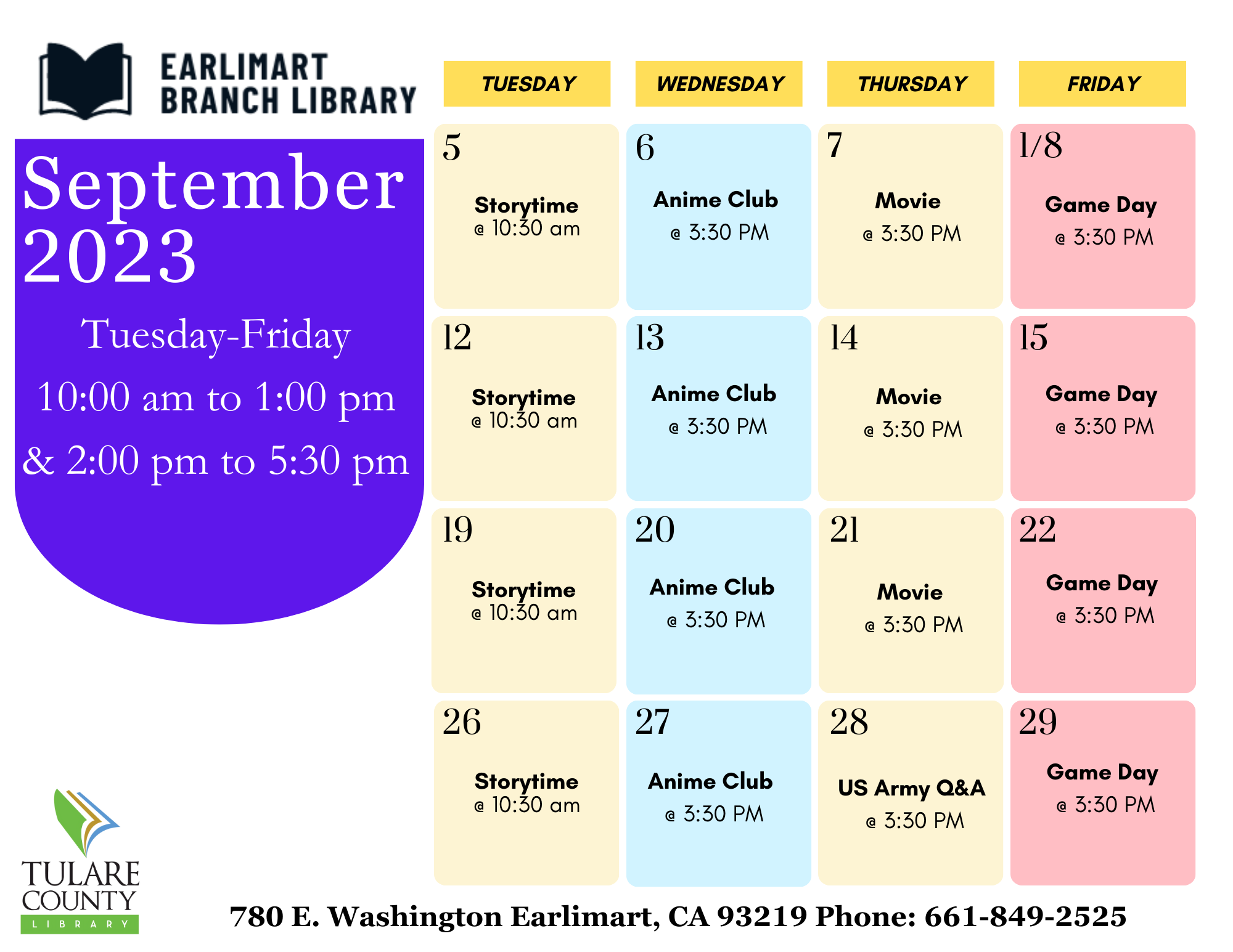 Activities for the month of September 2023
Tuesday

Wednesday

Thursday

Friday

5th

Storytime @ 10:30 a.m.

6th

Anime Club @ 3:30 p.m.

7th

Movie @ 3:30 p.m.

1st & 8th

Game Day @ 3:30 p.m.

12th

Storytime @ 10:30 a.m.

13th

Anime Club @ 3:30 p.m.

14th

Movie @ 3:30 p.m.

15th

Game Day @ 3:30 p.m.

19th

Storytime @ 10:30 a.m.

20th

Anime Club @ 3:30 p.m.

21st

Movie @ 3:30 p.m.

22nd

Game Day @ 3:30 p.m.

26th

Storytime @ 10:30 a.m.

27th

Anime Club @ 3:30 p.m.

28th

US Army Q&A @ 3:30 p.m.

29th

Game Day @ 3:30 p.m.

The Earlimart Branch Library is open Tuesday-Friday from 10: a.m. to 1:00 p.m. and again from 2:00 p.m. to 5:30 p.m.
Located on 780 E. Washington Ave. Earlimart, Ca. 93219 Phone:661-849-2525